Description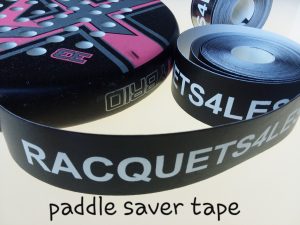 We here at Paddles4less are now selling LONG rolls of -15.5 Ft-of paddle saver tape.
We know how important it is to protect your new XTP paddle,thats why we Give you ONE free STRIP of paddle saver tape with every XTP paddle sold,,but many players are wanting to purchase rolls of tape and now we offering our racquets4less.com logo tape in reels for sale at only 8.99 each-WITH ANY PADDLE PURCHASE. NOT SOLD SEPARATE 8.99EA WITH PADDLE PURCHASE ONLY.
THIS TAPE AT 33MM WIDE WORKS WELL ON ALL NEWER WIDEBODY 29,33 AND 38MM PADDLES.