Description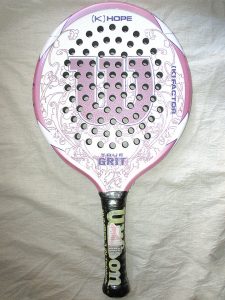 Wilson K Hope Paddle. A special design from wilson with the BREAST CANCER research foundation.a donation made with every paddle to find a cure,grip is 4 1/4 only.low density, True Grit texture, weight 355g,
And fir only additional 25.99 get the perfect Wilson paddle bag shown,.
this model is VERY similar to the BLX HOPE at much higher price, alot less $$$,so save big with the KHOPE paddle here. free s/h Great Women's Paddle at a Great Price !