With all the success and feedback now from players GLOBALLY we can finally tell you about next step for the XTP Tennis Butt Cap product.
We have just very very recently included new Patented IP that now includes the XTP SYSTEM of stretching a tennis racquet or paddle.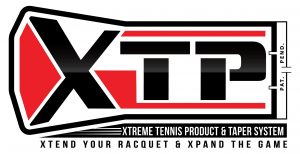 Working with the XTP tennis butt cap now for almost a year and we have been getting great feedback and with the help of the USRSA United States Racquet Stringers Association.
We think a large mfg of tennis racquets will soon approach us on the XTP SYSTEM, that now includes the TAPERED SYSTEM of having the bottom several inches of a racket slightly tapered to accommodate our Patended XTP tennis butt caps  So a player gets the No Build up feel. SOME players do notice once the XTP cap is installed it slightly builds up that section of the grip that the XTP covers,, So if a players had a size L2 handle once the XTP cap is installed it feels like a L3 with the new cap.Although some players actually like the build up feel.
But every player that has purchased the current  XTP Tennis Product agrees there is NOTHING ELSE LIKE IT ON THE MARKET AND ARE SO PLEASED THAT WE NOW OFFER SUCH AS EASY WAY OF SLIGHTLY STRETCHING A RACQUET OR PADDLE.
So we are ready and willing to talk to a Major Manufacturer like Wilson,Head,Babolat, Prince,Yonex,Dunlop,  Vokel,ProKennex ,Gamma,Techifiber…We feel the XTP Tennis Tapered SYSTEM is going to he the next big big thing in Tennis Industry racquet design.
Feel free to contact us here at racquets4less or paddles4less.