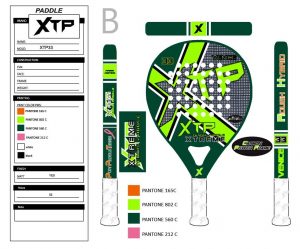 Ok,OK so the "Neon Orange and Neon Red" XTP 33mm paddle Was a Great success and Paddles4less is Building on that for 2018/19.
We have 2 new versions of the Most Popular XTP 33mm Venice paddle ever created.
We have the Neon "Yellow and Black" XTP 33mm Venice paddle arrives in Fall of 2018.
And we have the "forest Green and Neon Green" XTP 33mm Venice Paddle also.
Both new colors will be stretch versions at 18.4 inches long,and will have an extra 20% MORE GRITTY TEXTURE FOR SPIN.Both models will also feature a slightly softer eva core foam for power and both will have a L1-4 1/8 size grip.
We are always finding ways of improving on the XTP Venice line of Pop/Paddle Tennis Paddles at paddles4less and with our durable carbon weave construction we find OUR Paddles The Most Durable Paddles in the game for Wide Body Paddles,,Many other brands costing much much more and far less durable than the XTP line of paddles.
The Rough Hybrid 33mm XTP Venice is the most popular paddle ever created strickly for the sport of Paddle and Pop Tennis,,after many players not wanting so much power like in the 38mm style Spanish Padel paddles we at Paddles4less realized the 33mm at 340 to 345 grams was Powerful and controlable,with a textured face that most 38mm do not offer,we have created the very best of paddle equipment for Paddle Tennis or as it is now called in some circles Pop Tennis,but either way XTP IS the inovator of tbe widebody paddles to the sport.
So check out these 2 new versions and UP your game.These paddles can be purchased with or without a full thermal XTP paddle cover,we find that offering the paddle cover as an add on keeps from many players not needing or wanting a paddle cover from simply tbrowing an unwanted cover away,,we here at Paddles4less are looking out for our customers and our enviromental land fill savings,Win Win..
And as always we include a FREE strip of Rim Protection Tape with every XTP paddle sold.
We thank you for your continued support of Paddles4less..Truly..john r.keller