Description
A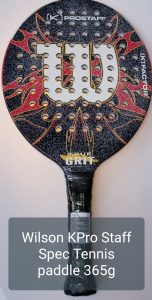 Ultimat Wilson control paddle K Pro Staff paddle. 365g .PLAYERS THAT WANT CONTROL WANT THE K PRO STAFF BY WILSON.
Thin beam for more ball control.
THINNER BEAM,SMART DENSITY FOAM EVA,TRUE GRIT TEXTURE, SHARP HOLE TECHNOLOGY.Full 18 inch length adult paddle great for men or women.
A Very Exclusive purchase at Paddles4less-Only 99.99 wow…orginal price 159.99.
Grip size is sz is L2 …4 1/4.
In stock.
Free shipping in USA.