Description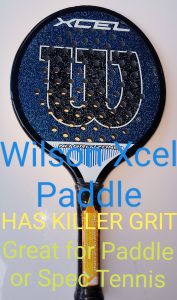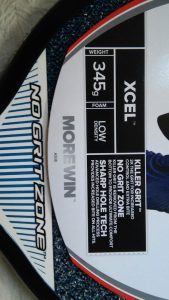 [
Wilson Xcel paddle. This paddle is back due to popular demand Killer Grit  and NO Grit Zone model shown is 89.99 .with standard headsize,is the lightest Wilson Adult size paddle 345 grams,low density EVA foam core.Sharp Hole Technology.
AND ORDER TWO XCEL PADDLES TOGETHER GET A FREE (1) WILSON BEANIE CAP-WITH 2 WILSON XCEL PADDLE TOGETHER.
Thus is a full length 18 inch adult paddle,this is not a short jr paddle, full 18 inch adult paddle.Has a smaller 4.0 grip size, low density eva foam,has Llower density small grip..also good for JR.or Woman or smaller player due to fact it has the  L0 4.0 grip size.
PLATFORM TENNIS , PADDLE TENNIS OR SPEC TENNIS.
A LIGHT FAST PADDLE.
ALSO A GREAT PADDLE FOR SPEC TENNIS AT ONLY 345 GRAM.ROCK ON SPEC TENNIS.