We now have the newest in Spec Tennis Paddles the XTP Spec Paddle in multiple paddle purchase combinations.
At 365g wt.High density foam core,Gritty silicon crystals textured face for spin.Thin Beam.
APPROVED SPEC TENNIS PADDLES IN MULTIPLE PURCHASE DISCOUNT.
110.00 for single paddle that includes 6 orange dot low pressure Spec  balls. With free shipping .
We also have.
2 paddles for 175.00
3 paddles for 250.00
4 paddles for 320.00
5 paddles for 390.00
6 paddles for 450.00
7 paddles for 520.00
8 paddles for 575.00
Larger order have better pricing   ,Call John 8186253634.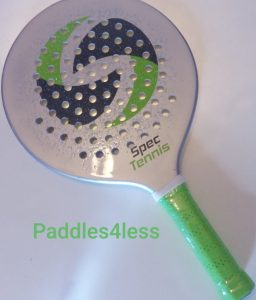 All have free shipping in USA