Description
Get so much value for 4 Paddles and a free Wilson 20ft starter net & balls. For playing paddle Tennis. Stay at home.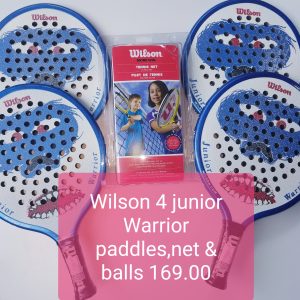 You can get all the family members playing Paddle Tennis with these 4 Wilson Junior Warrior paddles and a Wilson 20ft starter net.
Only 169.99 free shipping in USA.
Stay at home and set up in the Driveway, or Playground, Culdusac.
Junior Warrior paddle is a 16 inch long paddle ,335g ,low density foam, and true grit texture face. Very durable paddle by Wilson. L0 GRIPSIZE.
And adult can play with this product also.